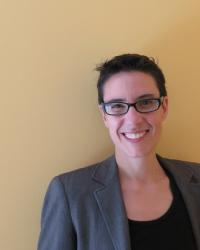 Contact Information
Office Hours:
Mondays 10am-noon and by appointment
Biography
Ph.D., Classical Archaeology, Stanford, 2009
M.A., Classical Studies, Stanford, 2006
B.A., Classical Archaeology and Political Science, UNC-Chapel Hill, 2003
My work examines the intersection of Roman material culture (art, architecture, archaeological finds, inscribed texts) and social history. My research has investigated the unofficial rules governing Roman sexuality, the social impact of Pompeian graffiti, the modern reception of Pompeii, and the physical, social, and emotional environment within Pompeii's "purpose-built" brothel (The Brothel of Pompeii: Sex, Class, and Gender at the Margins of Roman Society [Cambridge 2019]). This body of research aims to recover the contours of agency for marginalized groups like male and female prostitutes, penetrated men, and lusty women, and is thus influenced by and contributes to feminist and queer theory. I currently serve as co-chair of the Lambda Classical Caucus, and previously served as co-chair of the Women's Classical Caucus.