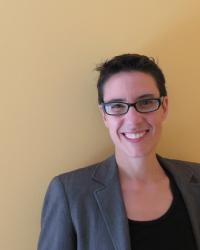 Contact Information
Office Hours:
Mondays and Wednesday 3-4pm and by appointment
Biography
Ph.D., Classical Archaeology, Stanford, 2009
M.A., Classical Studies, Stanford, 2006
B.A., Classical Archaeology and Political Science, UNC-Chapel Hill, 2003
My work examines the intersection of Roman material culture (art, architecture, archaeological finds, inscribed texts) and social history. I've explored sexuality in Roman Italy and the provinces (highlighting the sexual activity of penetrated men and women, for example), the social functions of Pompeian graffiti (including the literacy and subjectivity of those who inscribed texts and images), and the ways modern cultures look to ancient Rome for paradigms of sexual behavior. This body of research aims to recover the contours of agency for marginalized groups like male and female prostitutes, penetrated men, and lusty women, and is thus influenced by and contributes to feminist and queer theory.
In The Brothel of Pompeii: Sex, Class, and Gender at the Margins of Roman Society (Cambridge 2019), I explore the physical, social, and emotional environment within Pompeii's "purpose-built" brothel. In the process, I illuminate a world in which prostitutes could flout the norms of society and proclaim themselves as sexual subjects and agents (even while their sexual and emotional labor was sold), where prostitutes and clients exchanged gifts, greetings, jokes, taunts, and praise, and where enslaved clients were allowed to act like "real men."
My current research uses a range of ancient evidence to study the lives of enslaved people in Roman Italy. In asking how we might access and write about the emotional lives of these individuals, I build on creative approaches developed in other fields (e.g., Black feminist theory; counterhistory) that encourage us to think through dimensions of experience that are otherwise beyond scholarly grasp.
I previously served as co-chair of the Lambda Classical Caucus and co-chair of the Women's Classical Caucus.