Associate Professor of Classics, Adjunct in Gender, Women and Sexuality Studies; Graduate Program Coordinator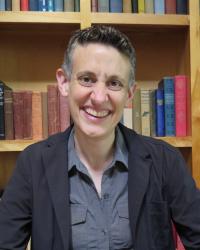 Contact Information
Office Hours:
Spring 2020: By appointment on Zoom
Biography
Ph.D. Classics, UC Berkeley, 2005
M.St. Greek History, New College, Oxford, 1999
B.A. Classical Languages, Bryn Mawr, 1998
I am broadly interested in Greek cultural and social history, with a particular focus on slavery. My first book, Status in Classical Athens (Princeton University Press, 2013), maps a spectrum of ten social and legal statuses in classical Athens, questioning the ideology of three neatly defined status groups—slave, metic, and citizen—so commonly found in both ancient Greek literature and modern classical scholarship. My second book, Insults in Classical Athens (University of Wisconsin Press, forthcoming 2020), examines the range of insults in Athens from benign mockery to serious affronts. I have also written a commentary on Pseudo-Demosthenes' Against Neaira (Dickinson Classical Commentaries, 2018) and a number of articles on Roman slavery and sexuality. For many years I served as co-chair of the Lambda Classical Caucus, a coalition of LGBTQ Classicists and their allies affiliated with the Society for Classical Studies.