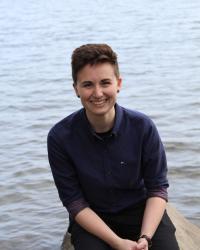 Contact Information
Office Hours:
All meetings online via Zoom, please email me for details.
Biography
Ph.D. (in progress), Classics, University of Washington. Anticipated June 2022
M.A., Classics, University of Washington
Post-Baccalaureate Certificate in Classical Studies, University of Pennsylvania
B.A., Classics, Skidmore College
Dissertation (in progress):
'Someone Get a Whip!' Enslaved Women and Violence in Athenian Oratory, Comedy and Curses, directed by Dr. Deb Kamen
 ♦ Featured on the Emerging Scholars Series at the NYU Center for Ancient Studies (November 2021)
Select Honors, Awards, and Fellowships
Volunteering: I always enjoy speaking to elementary, middle, and high school students about mythology or gender/women in ancient Greece and Rome. Interested teachers or parents may contact me via email for my availability. As of Autumn 2021, all meetings will be over Zoom.